Watch Warehouse is a certified luxury watch distributor that sells 100% authentic watches as well as luxury pen brands, high-end jewelry, and designer eyeglasses. After 20 years in the business of selling luxury accessories, we know just how important it is to our customers to buy products that come with an assurance of their authenticity.
How We Sell Authentic Watches for Less
Many of our customers wonder how we achieve such low prices with genuine luxury products. To make high-end watches and accessories more affordable, we buy our products at wholesale prices from authorized dealers and certified luxury watch companies. By purchasing in bulk, we are able to obtain these high-end items at lower prices, and we then pass the savings on to you!
At Watch Warehouse, we're passionate about providing only the most exceptional collection while also maintaining a degree of customer service and integrity that is truly unmatched in the industry.
Our Authenticity Guarantee
All of our authentic luxury watches and accessories are sold brand new in their original boxes and with the manufacturer's manuals intact. For items that come with serial numbers and case numbers—such as our luxury men's and women's watches and pens—these are also included with your purchase.
To give you further peace of mind, we include our original signed Watch Warehouse Certificate of Authenticity with each and every certified luxury watch, accessory, and fine writing instrument. We also offer a 30-day return policy that allows you to return your product if you feel any dissatisfaction with it whatsoever. This acts as a safety net and ensures that our customers are 100% happy with their purchase.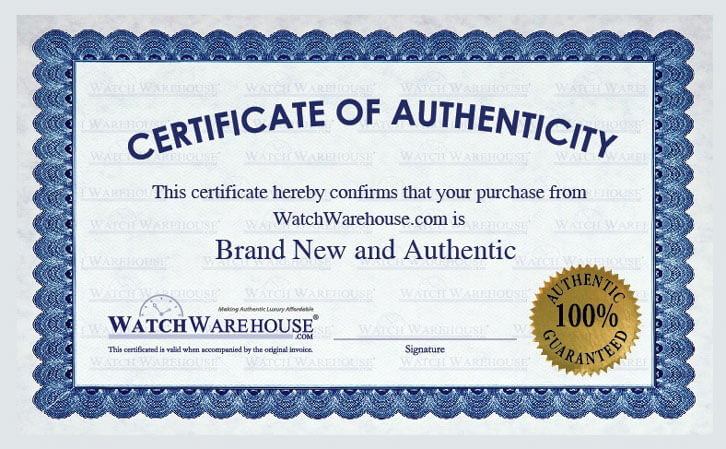 The Watch Warehouse Warranty
Although Watch Warehouse's authentic watches are certified authentic, we are not an official authorized dealer for all brands whose products we carry. This means that we cannot offer our customers the original manufacturer's warranty with their purchase.
Instead, we offer our own limited two-year Watch Warehouse warranty for complete peace of mind. As a result, some of our certified luxury watch packagings may have been modified in the process, and we apologize if this causes you any inconvenience.
How to Tell a Genuine From an Imitation
If you are a regular purchaser of luxury products such as authentic watches, pens, and designer accessories, it may be helpful to educate yourself about how to tell a genuine product from an imitation.
As a general rule, authentic watches are heavier than imitations, are marked with serial, case, and/or manufacturer numbers, and have a second hand that is impeccably precise. You will notice that the certified luxury watches we carry at Watch Warehouse have all of these characteristics.
Shop Authentic Watches With Confidence at Watch Warehouse
Watch Warehouse has been in business since 1997 and we have received well over 5,000 5-star customer reviews on completed purchases, with an average rating of 4.9 out of 5 stars. When purchasing from us, you can almost always guarantee a positive experience.
Our luxury watches, pens, and accessories make ideal gifts that people love to receive. You'll bring a smile to the faces of your friends and family by selecting the perfect luxury item -- and the reduced price tag will make you smile too!
We make it our mission to provide excellent customer service and are happy to answer your questions about our authentic watches. Contact us for assistance and shop with confidence today.